---
Product Spotlight
Give your springtime seasons a boost with TWO new oils - Season Essentials and Red Cedar Bliss! Season Essentials is a super-powered version of our beloved Lavender, Lemon & Peppermint, and Red Cedar Bliss has a warm, harmonizing aroma that also supports a healthy immune system. These two are perfect for the changing seasons!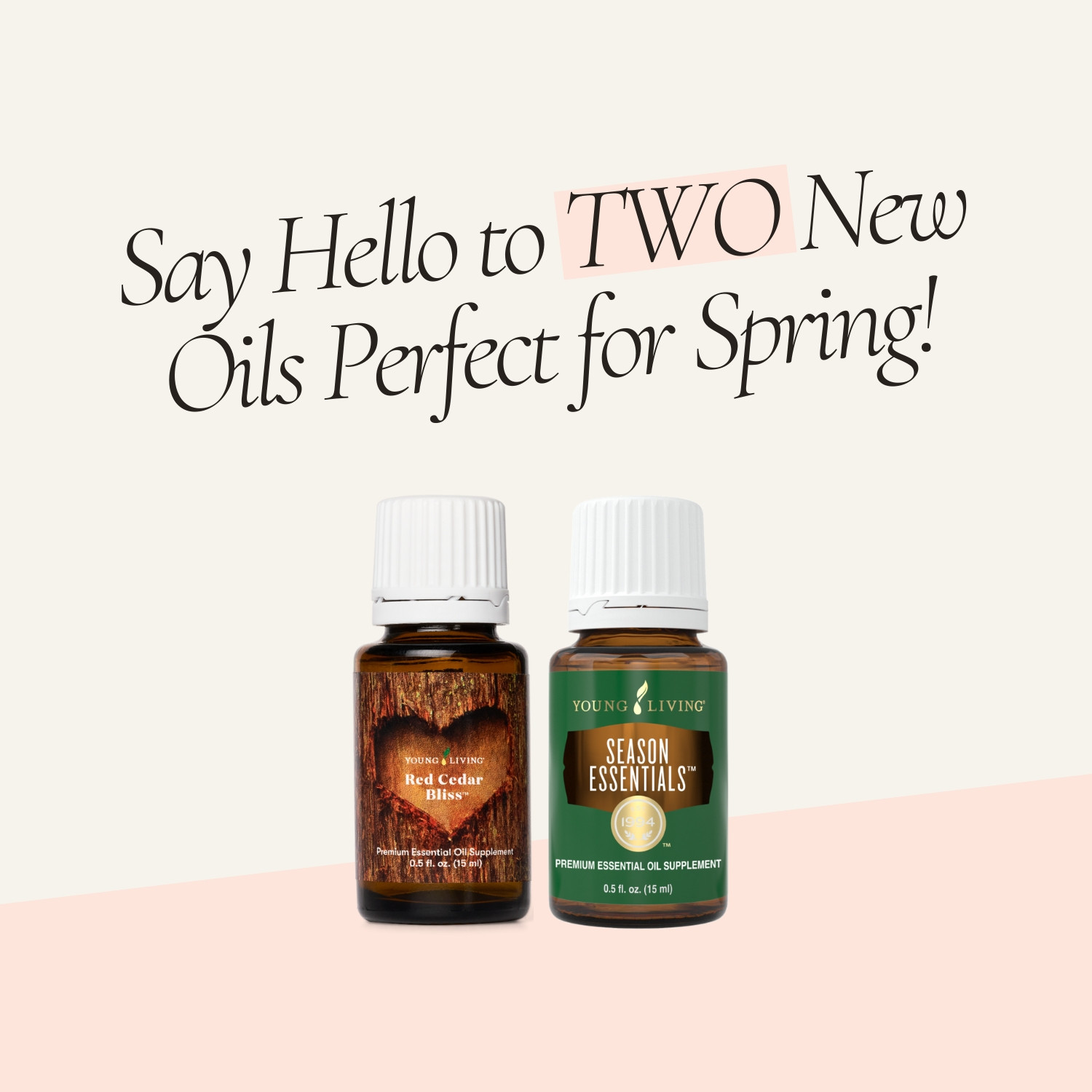 SEASON ESSENTIALS OIL BLEND
Item No 43941 I Size: 15 mL I Wholesale: $42.50 I Retail: $55.92 I PV: 42.50
Meet your new springtime sidekick, Season Essentials essential oil blend. This oil blend is specially formulated with a tried-and-true trio of three core oils—Lavender, Lemon, and Peppermint – our go-tos when the seasons (and air quality!) change! But it gets better. Season Essentials blend is further enhanced with the properties of Goldenrod and Eucalyptus Blue essential oils so that you can embrace the changing seasons with open arms!
This incredible blend is labeled for use as a dietary supplement, for diffusing and for topical application, so you can use it however you choose! Season Essentials blend has an invigorating and soothing aroma and will be your go-to deep-breathing companion during seasonal changes.
Inhale it to support a healthy, clear respiratory system no matter whether you're enjoying the outdoors or relaxing at home.

Add Season Essentials to a teaspoon of honey and take it internally.

Fill a clear vegetable capsule with Season Essentials and olive oil and use it as a dietary supplement

Add a few drops to your palms and rub them together. Cup your hands over your nose and mouth and take 2–3 deep, slow breaths through your nose, exhaling through your mouth.

Diffuse Season Essentials blend to refresh any stuffy room and support the airways (especially when you lie down!).

Apply this blend topically to the head, neck, and chest to inhale its stimulating yet soothing aroma.
RED CEDAR BLISS OIL BLEND
Item No: 43909 I Wholesale: $54 I Retail: $71.05 I PV: 54
Red Cedar Bliss essential oil blend is another springtime must have! This combination of Orange, Clove, Laurus Nobilis, Helichrysum, Frankincense, and Western Red Cedar oils has a warm, harmonizing aroma to ground and uplift the mind. Plus this blend of oils has some incredible health benefits, is full of antioxidants, and helps support a healthy immune system and overall wellness!
Red Cedar Bliss blend is designed for aromatic, topical, and dietary use, so you can use it however you need! With notes of cozy spice, sweet citrus, and soft cedar, it's the most comforting blend to enjoy on those cold nights or rainy mornings. Pop it in your diffuser, massage it on your skin, or take it in a veggie capsule to enjoy every drop of plant-powered goodness!
Add 1 drop to a veggie capsule to help support a healthy immune system.

Dilute and massage a few drops into your skin for a moment of harmony and peace.

Diffuse to fill your space with a cheerful, spicy-citrus aroma.

Add a few drops to the floor of your shower and let the oils and steam work their magic.

Add a few drops to epsom salt for a long, luxurious soak.

Add to a teaspoon of honey and take as a supplement or add to a mug of hot tea.

Grab these two new blends today to give your spring a little boost!
Try it for y
ourself a
nd let me know what you think!
---